Barry Frank
Management
Year Inducted: 2009
In sports television, few individuals are lucky enough to make a name for themselves in a single profession. Barry Frank has made his name in three, forever changing the business in the process.
"There probably will never be anybody in the industry who has worn as many hats as Barry has," says Sean McManus, president of CBS News and Sports. "He is probably the most prominent negotiator for sports rights in history, he is a prolific creator of events, and he has represented some of the biggest names in the industry. He has been so influential in so many areas, I don't think that's going to be duplicated ever again."
Legendary producer/director Don Ohlmeyer concurs: "Barry has been involved with an enormous number of things that have pushed this industry forward. Unlike a lot of people in the business, he is not a one-trick pony. He has been successful at every place he's been."
In more than 50 years in the business, Frank has been to many places. After graduating from Carnegie Mellon University and the Harvard Business School, he began his career at CBS Production Operations, but he did not become involved with sports until he joined J. Walter Thompson.
"Ford at that time was the largest buyer in sports in America," he says. "So working on the Ford account, I became very involved in sports."
He soon moved on to ABC Sports, where he spent six years as vice president of sports programming before joining IMG in 1970. Currently executive vice president of IMG Media Sports Programming, he has been with the company ever since, except for a two-year stint from 1976 to '78, when he returned to CBS as president of CBS Sports. Although Frank did not love the top job at CBS, those two years proved an invaluable learning experience.
"The fact that he was the head of a network sports division helped him greatly," says veteran production executive Jim Bukata. "He understands not only the rights end of the business; he understands production."
That grasp of production helped Frank develop nearly a dozen successful television shows, from American Gladiators to Survival of the Fittest, an outdoor competition show that set the stage for the wilderness-based reality TV series of today. All of Frank's shows stood the test of time.
"Barry was involved in three shows that were on a network for more than 20 years: The Skins Game, Superstars, and World's Strongest Man," Bukata adds. "I defy almost anyone to say that they've had a show on the air for more than 20 years, let alone three of them."
Frank's production experience proved its worth when he took a seat at the rights-negotiation table.
"Barry understands the value of where his client's content will be seen, time periods, lead-in programming, and competitive programming. Barry does more than just analyze the monetary value of a deal."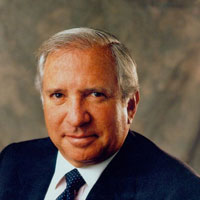 Adds ABC Sports producer Dennis Lewin, "There aren't a whole lot of people that have that expertise from both sides of the table. That has given him the ability to make some unique deals."
Chief among such deals was the 1988 Olympic Games. Prior to 1988, the highest price paid for the broadcast rights to a Winter Olympics was $91.5 million, for the 1984 Sarajevo Games. With Frank at the table, however, the broadcast rights to the Calgary Games sold for a staggering $309 million — an increase of more than 300%.
"That's an unbelievable jump," Bukata explains, "and Barry did it with maybe the most unique strategy for bidding that there ever was."
Before bidding began, Frank required each of the three networks at the table to sign an identical broadcast contract, with the dollar amount as the only open item, so that there could be no negotiation after the fact. He then held several rounds of bidding, opening up a new round as long as the top two bids were within 10 percent of one another.
When the negotiation reached $300 million and ABC and NBC were tied, straws were drawn to see who would bid first. Once ABC tendered $309 million, NBC left the table.
"That was probably the first major breakthrough in the Olympic-rights world," Frank says. "That was the deal that put me on the map."
His influence has since spread all over the map, from rights deals for six more Olympic Games to representation of MLB, NBA, NHL, the BCS, and the ACC, and even a deal alongside Pete Rozelle that helped the NFL gain exposure worldwide. A consummate salesman, Frank is known for being a problem solver, tough but fair.
"Barry understands better than anyone that, if the deal is only good for one party, it's probably not going to last very long and it's not going to be a deal that he's very proud of," McManus says. "He has always tried to be fair and represent his clients in an honorable way. I think his reputation is proof of that."
Frank's clients include individuals as well as leagues and associations. A top talent agent, he continues to represent many of the most highly regarded sports broadcasters in the industry, nurturing the careers of the likes of Jim Nantz, Greg Gumbel, Bob Costas, and Mike Tirico.
Colleagues attest that Frank's work ethic has not changed in his 50-plus years in the business, and the talented negotiator/agent/creative developer has no plans to retire any time soon.
"I do not see myself ever retiring," he says. "What else could I do that would be as much fun as this?"
As the past five decades have shown, the sports industry is a better place when Barry Frank is having fun.