Chet Forte
Production
Year Inducted: 2008
Chet Forte first captivated audiences on the court as a college basketball star and, throughout a three-decade career as producer/director, never let them go. In 25 years at ABC Sports, the tenacious Forte told stories through the events he covered, upending established norms for camera angles and graphics usage and, on his trademark Monday Night Football broadcasts, creating the low, intimate coverage that is now an NFL standard.
The directorial talents of Fulvio Chester Forte Jr. surfaced in his broadcasts of NBA games, where the consensus All-America's skills on the court helped him weave a narrative of the action off of it.
"Chet was a great athlete, and maybe that should have been the tipoff for everybody," explains Dennis Lewin, former SVP of production for ABC Sports. "Chet's ability to anticipate a moment and be one step ahead of the action came through his knowledge of sports."
Forte's signature two-handed set shot was deadly throughout his college years at Columbia University. Standing 5 foot 7, "Chet the Jet" averaged 28.9 points per game his senior year, beating out 7-foot Kansas star Wilt Chamberlain for college basketball's Player of the Year in 1957. After an unsuccessful NBA tryout, Forte landed a job with CBS, where he spent five years before beginning his career at ABC in 1963.
"Chet's real strength was understanding the moment, understanding the shot that was called for at that moment, and being one step ahead in getting that shot."
In 1970, when ABC Sports President Roone Arledge tapped Forte to direct the first season of Monday Night Football, Forte knew that the shots he would need were impossible to get with the three- to five-camera setup that was then standard for NFL games. Forte wanted at least 10 cameras for his broadcasts, and he wanted them positioned where cameras had never before been placed: the 25-yard line, a cart along the sideline, the shoulder of an on-field camera operator.
"Everywhere we went with the NFL, we would inevitably meet some resistance when we laid out our plans because 'this isn't the way it's done,'" Lewin explains. "Chet fought hard to change the way the games were covered."
Before his broadcasts, the volatile director personally supervised camera placement throughout the arena, fighting stadium officials unhappy with camera carts blocking players' sideline views or hand-helds getting too close to the bench.
"I think Chet was one of the game-changing people in the history of the business," says Don Ohlmeyer, former producer of Monday Night Football. "Chet brought a visual style that constantly pushed the medium forward. Our goal in the early years was to get the coverage lower and more intimate."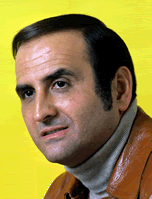 Such intimate coverage was no easy task with a hand-held camera that weighed 20 pounds and required an 80-pound support pack. Forte's demands to pick out the perfect reaction shots, along with his trademark ground-level views of high-kicking cheerleaders, compelled manufacturers to make smaller equipment that would allow this ebullient game-changer to, in his words, "get it right."
"The push of camera manufacturers to address what we needed led to what you have today: smaller, more portable equipment," Ohlmeyer says. "The same was true with switchers, slow motion, still store; all these were part of the effort to try to get the look that Chet was striving for."
A student of Arledge's story-first approach, Forte concentrated as much on the big picture as he did on any single shot.
"Maybe Chet's greatest strength as a director was that he was a talented producer," Lewin says. "When sitting in the directing chair, Chet was thinking as much about producing and storyline as he was about individual shots."
To annotate the chapters of his stories, Forte implemented a host of technical innovations. He complemented the game images with graphics and statistical information that had never been used in football broadcasts but have become standard practice today.
Forte's innate ability to capture the stories that turned a sporting event into entertainment made Monday Night Football a social phenomenon. In his 25 years at ABC, with the same commitment as any athlete or coach, Forte passionately produced and directed events ranging from the Kentucky Derby and Indianapolis 500 to two Olympic Games and countless Wide World of Sports shows, earning 11 Emmy Awards in the process.
Forte spent the final chapter of his career hosting a sports-radio talk show on XTRA in San Diego. The early-morning hours allowed him to become a family man alongside his wife, Patricia, and daughter, Jacqueline, whose elementary-school basketball team was fortunate to have a former All-America as a coach.
Several decades after Forte left the director's chair, his work continues to captivate audiences in the sports broadcasts that carry the mark of his innovations.