Chuck Howard
Production
Year Inducted: 2009
During three decades of ABC Sports' broadcast dominance, the nation's sports heavyweight had a go-to producer for many of its most important events: Chuck Howard. Between 1960 and 1986, Howard lent his skills to nearly every ABC Sports event, from Olympic skiing and the Kentucky Derby to the Super Bowl and World Series. A sports fan first and a television executive second, Howard left his legacy as much in the people he trained as in the events he covered.
"Chuck was at ABC sports before there was an ABC Sports," says Dennis Lewin, former SVP of production at ABC Sports. "It was really Chuck and Roone [Arledge] pioneering all different types of coverage. Chuck was Roone's go-to guy; Roone went to him as the producer for virtually every big event for years and years and years."
From his days at Garden City High School in Garden City, NY, Howard was an encyclopedia of sports information. He got his first job in sports media while still a high school student, writing the high school sports column in the local paper, The Garden City News.
"He was the ultimate Garden City High School No.1 sports fan," says Doug Wilson, ABC Sports producer/director and a fellow Garden City alumnus. "He was the same completely focused, pragmatic, no-excuses guy, even in high school."
At Duke University, Howard added broadcasting to his résumé, taking the microphone for Blue Devils' basketball and baseball games. When he returned from service in the Army, however, his career in sports was almost derailed when he entered a training program at Chase Manhattan Bank. Luckily for the sports industry, Howard's future wife saw to it that his time in finance was short-lived.
"I got very early on that he was a sports nut," says Carolyn Howard. "He had wanted to get into baseball administration but had no ins there, so I got his foot in the door at ABC."
Carolyn was working in ABC's news department when she crossed paths with Ed Scherick, then the head of Sports Programs Inc. Carolyn asked her boss to call Scherick on behalf of her husband, to request an interview. Soon after, Howard joined Arledge, Scherick, and Jim Spence on the venture that became ABC Sports.
"A lot of people say that it wouldn't have happened without their wives, but, in Chuck's case, it was 100% true," Lewin laughs.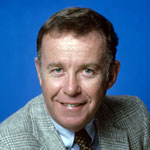 Howard's encyclopedic sports knowledge served him well at ABC, where his credit reel includes nine Olympic Games, the Super Bowl, World Series, U.S. Open, British Open, Kentucky Derby, Indianapolis 500, and NCAA football. He also helped create ABC's Wide World of Sports and served as vice president of production.
"For ABC, he produced everything," Carolyn says. "No matter what the sport was, if they were covering it, he produced it. I don't know how many producers can produce everything, but he could."
Depending on whether you found him inside the production truck or outside, Howard could be Dr. Jekyll or Mr. Hyde. During an event, the booming voice of a tough taskmaster bounced off the walls as Howard demanded excellence from every member of his team.
"I used to call him Barney Bellows because he could truly raise hell. When you went to the stadium, you sure better be ready, or he'd let you know about it."
Says Don Ohlmeyer, producer/director for ABC and NBC Sports, "Chuck was not a withering violet. You always knew where you stood with Chuck, and you always knew what Chuck wanted done. He was very clear in his instructions and in his demands, and that's what makes for good shows."
Outside the truck, Howard was a caring friend and a loving father of four.
After 26 years at ABC, he served as the executive producer for the Big Ten Conference's football and basketball broadcasts before being named executive producer of Trans World International.
A winner of 11 Emmy Awards, Howard is credited with being the first to use a split screen and an isolated camera to highlight a hidden part of a play, but he truly left his mark in resources that were human, not technical.
"Chuck's legacy," says Lewin, "is in the combination of people that he was directly or indirectly responsible for hiring."
Howard hired sports fans, not TV executives, because passion for sports was not something he felt could be taught. That vision put ABC Sports on the path to decades-long success. At one point, the group of production assistants reporting to him included future ABC Sports Director Joe Aceti, future NBC Sports and Olympics President Dick Ebersol, Lewin, future ABC Sports Executive Producer Geoff Mason, and Ohlmeyer. A more talented group may never be assembled.
"Chuck was a brilliant producer, but he was a better executive producer," says Barry Frank, EVP of IMG Media Sports Programming and a colleague of Howard's at ABC Sports. "He was a great teacher. He looked at his job as just as much teaching young guys how to do it as he did producing events himself."
Those lessons live on as Howard's legacy, long after his death in 1996.