Curt Gowdy
On-Air Talent
Year Inducted: 2008
In the history of sports broadcasting, few figures have had the power to legitimize an event simply by attending it. For 40 years, Curt Gowdy was that figure. Over the course of a career that spanned five decades and all three broadcast networks, the "Cowboy at the Mike" called hundreds of football, basketball, baseball, Olympic, and outdoorsman events on his way to becoming one of the most heralded sportscasters of all time.
"When you heard Curt Gowdy on a football game or a baseball game, it didn't matter who was playing; it was like listening to the Super Bowl or the World Series," explains Dennis Lewin, former SVP of production for ABC Sports. "You knew it was a big event because Curt Gowdy was there."
Curtis Edward Gowdy was born in Green River, WY, and maintained his cowboy roots in every broadcast booth he entered.
"Curt had a very down-home way of presenting things. He could really reach out across America with a warmth, a love, and an affection not just for his audience but with his audience."
A gifted basketball and tennis player at the University of Wyoming, Gowdy suffered a spinal injury in World War II that forced him off of the court and invited him into the broadcast booth. Thanks to his mother's insistence that he take elocution lessons at age 10, when the manager of KFBC radio in Cheyenne asked Gowdy if he was interested in calling a six-man–football game, the young sportscaster was ready to take the stage ⎯ or, as it turned out, the milk crate.
On a 40-degree day in 1944, in front of a crowd of no more than 15 and without a roster, jersey numbers, or yard or goal lines, Gowdy called his first game perched atop a couple of milk crates, making up player names as he went along.
"That game was the height of his creativity, as he said, because he just made up the whole thing," explains Curt Gowdy Jr., former executive coordinating producer for ABC sports and currently SVP production and executive producer of SportsNet New York.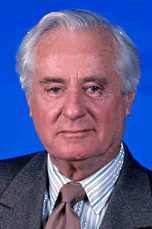 Gowdy graduated from six-man to Oklahoma University football, calling Sooners games for three years before landing a job alongside Mel Allen, broadcasting New York Yankees baseball. After two years in New York, Gowdy switched sides, embarking on a 15-year stretch as radio and TV play-by-play announcer for the Boston Red Sox.
"He liked to give you the view of the fan," Gowdy Jr. says. "He wanted it to feel that he was sitting next to somebody and that he would poke that person in the ribs and get excited. He and his analyst partner were just two guys going to a game."
The plainspoken low-key baritone's talents could not be contained in Boston, however, and the meticulous Gowdy soon became Mr. Everything. The voice of college football when it premiered on ABC in the early 1960s, Gowdy soon lent his talents to the American Football League, eventually calling nine Super Bowls, including the first in 1967. In 1966, he voiced the NBC Baseball Game of the Week for the first time, eventually calling 16 World Series and 16 baseball All-Star games. Among Gowdy's other star-studded credits are 12 Rose Bowls, eight Olympic Games, 24 NCAA Final Fours, Ted Williams' last at-bat in 1969, the "Immaculate Reception" in 1972, and Hank Aaron's 715th home run in 1974.
Gowdy's most personal productions came during his 20 seasons as host of The American Sportsman. His co-executive producer, ABC Sports President Roone Arledge, allowed Gowdy's inner cowboy to flourish on that show as he hunted and fished around the world with his friends ⎯ Ted Williams, Bing Crosby, and Jimmy Carter, to name a few. Originally introduced as a competitive-fishing segment, The American Sportsman spanned three decades and enshrined Gowdy's reputation as the consummate outdoorsman.
The Cowboy was, first and foremost, a family man. Gowdy always made time for his wife, Jerre, and three children, two of whom are now deeply involved in the television business.
"Not only was he a man of all seasons from the broadcast side, he was a man of all seasons on the personal side," Gowdy Jr. says. "He always made time for everybody, not just his family, and particularly other people who were interested in getting into the business.
Gowdy earned 13 Emmys over the course of his career, including six for The American Sportsman. He was presented the Lifetime Achievement Emmy Award in 1991 and is the first individual sports figure to win the Peabody Award for Outstanding Journalistic Achievement.
Perhaps the most prolific broadcaster ever to step into a booth, Gowdy spanned decades, sports, continents, and networks, and his supreme talents will never be duplicated.