Deane Beman
League and Team
Year Inducted: 2009
The only modern-era professional player to become commissioner of his own sport, Deane Beman brought a unique perspective to the office that forever changed the PGA Tour. Named the Tour's second commissioner in 1974 — at age 35 — Beman maintained the sport's traditions while infusing it with a financial savvy that made the PGA Tour a television event. He also designed the first stadium course and made golf friendly to both broadcast networks and fans, helping the sport's popularity to skyrocket in the process.
"The players in the professional golf tour should kneel down every day, face wherever Deane is reposed, and thank the lord for the spadework he did in making the Tour what it is today," says legendary ABC/NBC producer/director Don Ohlmeyer. "Deane really took golf in America to another level."
Prior to becoming commissioner, Beman left his insurance-broker practice to pursue a career as a golfer. Among other honors, he won two U.S. Amateur titles, The Amateur Championship, and four PGA Tour titles. His experience on the course instilled in him a love of tradition and respect for the game that shaped his two decades in the commissioner's office.
"There's a lot of golf tradition in Deane," says Peter Lund, former president of CBS Sports. "All good golfers want to birdie every hole, but Deane is thrilled if you birdie every hole also. It is the same in business: he wanted to get every last dime that was due him from you as a network, but once he got that, he wanted you to do as well as he did. In some sports, me crushing you is standard, but not in golf and not with Deane."
Beman created the Tournament Players' Championship and the Senior (now Champions) and Ben Hogan (now Nationwide) Tours. But his most business-savvy accomplishment was finding a way to finance the growth of televised golf at a time when a hard line was drawn between advertising and television.
"There was a wall," Beman says. "The networks had policies against the mentioning of commercial entities during the telecast. Only during the commercial breaks was that allowed."
With Beman at the helm, however, that began to change. The commissioner developed relationships with corporate entities, convincing them of the merits of attaching their name to a sponsored golf tournament. By providing guarantees to TV networks for both rights fees and production costs, those sponsors began to support the production of golf on television.
"Now there's no line at all," Beman says, "and corporately sponsored events are everywhere."
Corporate sponsorship was a prerequisite for televising golf tournaments, as the cost of putting golf on TV was about $250,000 — 10 times the price tag for a game played indoors, in a confined space. Ratings were not factored into the financial transactions Beman facilitated, but the networks were involved, alongside sponsors and local charities. His genius was in finding ways for all three parties to work with the Tour, and earn a profit in the process.
"Deane is responsible for the Tour being where it is today in terms of national popularity and as a television product," Lund says. "The fact that televised golf is such a mainstay is because of what Deane did for the Tour."
Beman did just as much for fans who attended the Tour. Unlike most sports, where fans enter a stadium and sit down, in order to really see a tournament, golf fans walked up to 5 miles around the course and stood in rows behind one another. The top-selling item on many courses was a periscope, to see over the heads of other spectators.
"Many golf courses were not built with spectators in mind," Beman says. "The first row of people got to see, the second row saw a little less, and the third row got worse. Developing a golf course with enough room to accommodate both spectators and the corporate sponsors was very important."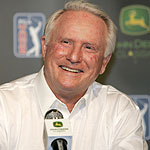 In 1979, The Players' Championship needed a permanent home, and Beman wanted to build it as a new type of course, a spectator-friendly site that would accommodate the growing popularity of professional golf. He found 4,000 acres of swampland in Ponte Vedra, FL, and persuaded its developer to sell 415 acres to the Tour for $1 — and the promise that the course would increase the value of the surrounding land.
The newly minted TPC Sawgrass, the first-ever stadium golf course, incorporated mounds, high banks, and earthen amphitheaters, designed so that fans could see without someone standing directly in front of them. The course was so successful that it has since become a prototype for dozens of viewer-friendly golf courses worldwide and gave Beman a new moniker: The Father of Stadium Golf.
Among his wife, Judy, five children, and 10 grandchildren, Beman now has quite a few golfers in his clan. The Commissioner retired in 1994 and continues to play — though, in his words, "just once a day." His favorite place to tee up? Any of a half dozen stadium courses across the country, none of which would have been built without the determination, vision, and unique perspective that Deane Beman brought to the office of PGA Tour Commissioner.