Don Ohlmeyer
Management
Year Inducted: 2008
The brilliant creative force that is Don Ohlmeyer devoted his sports-broadcasting career to elevating the story above the event.
Spreading his talents across multiple sports, networks, and genres, Ohlmeyer took chances with personnel, production choices, and technology, constantly pushing for new ways to better tell the story.
Ohlmeyer's own broadcasting story begins at the University of Notre Dame, where he spent his college Saturdays working as a gopher for ABC Sports.
"From the first day I went to work at ABC Sports, it was like giving heroin to an addict," Ohlmeyer says. "I just absolutely loved it ; I couldn't wait to go to work. I was mesmerized by how shows were put together."
In the early 1960s, ABC had no rights to the big-ticket championships, so, as the underdog of sports broadcasting, Ohlmeyer was charged with turning second-tier events profiled on Wide World Of Sports into first-class productions.
"What was important in those days was how good the show was, not what the event was. We took these events that nobody had ever heard of and got people to care about them. It was a great lesson to learn about storytelling."
As producer of Monday Night Football, Ohlmeyer began telling those stories to a mainstream audience. Introducing the first in-game updates, the consummate risk-taker paved the visual path to the modern football telecast.
"We had to continually come up with better ideas with the technology and be able to tell a story with that technology," explains Ken Aagaard, executive vice president, operations and production services, CBS Sports and chairman, advisory board, SVG. "Don maybe moved the meter in sports production higher and faster than anyone in the history of the business."
Ohlmeyer's vision has always been to touch his audience, to make them feel something, from the pain of the massacre at the 1972 Munich Olympics to the ironic hilarity of comedian Dennis Miller on Monday Night Football. Lured out of retirement by Howard Katz, then president of ABC Sports, Ohlmeyer returned to his roots in 2000 to produce Monday Night Football for one final season.
"Don was the one producer who could transform the show into something magic and get people talking about Monday Night Football again," Katz says. "Don was unique in his ability to bring not just sports knowledge but true showmanship to a primetime program and make it something out of the ordinary."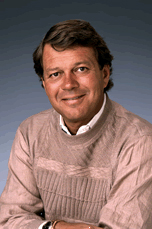 In his second stint with the show, Ohlmeyer dramatically changed its visual and graphic look, added a healthy dose of his trademark controversy, and put the template in place to return Monday Night Football to its glamour days.
In the two decades between his Monday Night Football stints, Ohlmeyer produced and directed three Olympic Games, served as executive producer of NBC's sports division, formed his own production company, and returned to NBC as president of its West Coast division, bringing the network back to primetime dominance with "Must-See TV."
Still, "I never really left sports," Ohlmeyer says. "Even when I went to NBC as president of West Coast, I made part of my contract that I could still direct the Indy 500."
Sports continues to infuse Ohlmeyer's life — as well as his curriculum: he's now an adjunct professor of communications at Pepperdine University.
Having found a way to give back to a business that gave so much to him, Ohlmeyer spends his days teaching a new generation of television professionals to touch their audience, as he did so brilliantly for 35 years.