Frank Chirkinian
Production
Year Inducted: 2007
Frank Chirkinian is best described in his own words: "I was probably the most innovative and brilliant son of a bitch that ever worked in television. I've done so damn many things I can't remember half of them."
The father of televised golf, Chirkinian produced 38 consecutive Masters Tournament telecasts, making golf a mainstay in sports broadcasting. He spent 40 years so transforming CBS Sports that, since his retirement, little has changed in the network's coverage.
In 1957, Chirkinian moved from CBS news to sports, where he tackled, as he says, "just about every sporting event known to mankind" from polo and Triple Crown horse racing to the PGA Tour and the Olympics.
Chirkinian's accomplishments range from the small-scale to the sky-high, literally. He invented the IFB communication devices that every announcer now wears in his ear, changed golf's aggregate scoring system into the now-standard over- and under-par display, and pioneered the use of cameras on blimps.
"There was already a blimp flying over the Orange Bowl so I thought, what if I get a camera up there?" Chirkinian says. "The president of CBS Sports asked how long I was going to use the thing. When I said 10 seconds, he said are you crazy? And I said yes, that's why you hired me."
Chirkinian has always been fascinated by capturing a sense of motion on camera, so when he televised the Los Angeles indoor track meet in the 1960s, he tried something new for the 11-lap, 1-mile race: He placed a cameraman on a movie crane and wrapped a cable about him 11 times.
"He just kept doing 360s, unwrapping another length of cable," Chirkinian says. "I never made a camera cut, and I got this great sense of speed."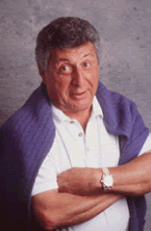 That allure of motion led him to create quick-cutting golf productions that build an illusion of speed in a sport known for its slow pace. "To me, golf is great theater," Chirkinian once said. Adding motion to the drama made it all the more enticing.
His "what-if" attitude helped spur the nuances that make golf great television. He painted the cups white for easier viewing; placed microphones on the green, the tee, and the cup; and tried out any idea that occurred to him, because no one had ever attempted it to tell him it would not work.
During his first golf production, in 1958, Chirkinian wanted to put a camera tower behind the 17th green. An oak tree growing in his desired path did not deter the producer: He simply built a tree house for the camera.
"There are so many things he did that I don't even know about it, that we all take for granted," says announcer Pat Summerall, who began working with Chirkinian in 1985.
While other networks emphasize storytelling in their golf coverage, Chirkinian steered CBS to focus on the sport. The network concentrates on the swings of the athletes, showing the man who hit the ball rather than its mid-air flight. He instructed his announcers to speak sparingly, advising them to "err on the side of silence."
His genius earned him four Emmy and two Peabody Awards, and the nickname Ayatollah.
"I read what an ayatollah was. They knew everything, they bossed everybody, they were experts in everything. I thought Frank fit that description perfectly. He was a dominating personality."
Says Chirkinian, "I accepted that as a compliment. It means you know what you want and how you want it."
For 40 years, he knew what he wanted and worked to get it, creating the standard against which golf telecasts are still measured. He may not remember half of the things he did to advance sports broadcasting, but the industry will never forget them.