George Wensel
Operations and Engineering
Year Inducted: 2007
In his tragically short, 15-year career, George Wensel did more to advance sports production than most people achieve in a lifetime. A technical wizard, he had an unmatched passion for engineering and a can-do attitude that built the foundation for the mobile broadcast industry.
"If George Wensel were alive today, our business would be different," explains Ken Aagaard, SVP of operations and production services at CBS Sports. "He was that dramatic. Technically, production-wise, he had an uncanny ability to take difficult tasks and make them easy and to make the mundane spectacular."
After starting his career as the news operations manager for New Jersey Public Television, Wensel wasted no time in building his industry reputation. In just one year with HBO Sports, he became a lead production executive, structuring the 1980s telecasts of boxing and Wimbledon tennis.
"His technical prowess was known to all. He was always able to take new technologies and apply them in a manner that no one else would even see."
In 1986, no one else saw Wensel's vision for the future of remote broadcasting. As vice president of operations for uplink mobile-unit company TCS, Wensel was preparing to cover the 1987 Pan American games alongside Northeast Production (NEP). Wensel suggested merging the two companies to provide superior coverage, and NEP was born.
So much of what we have built as a company was built around George, explains Dan Wilhelm, Executive Vice President of NEP Broadcasting. "When we were just beginning to put together systems for remote telecasts, he was doing it on the back of napkins. He was able to pull it all together into what is today a very sophisticated industry."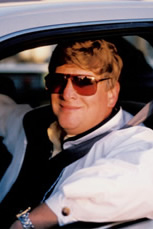 As a founding partner of what is now the world's leading mobile broadcast company, Wensel enthusiastically moved NEP into the world of global television, bringing his company's expertise to NBC's coverage of the 1988 Olympic Games in Seoul. That production was later regarded as the first modern Olympic broadcast.
"He led the way for us to think there isn't anything that we can't do, and at a high level, in big-show situations," Aagaard says. "George would prove time after time that the impossible was possible. Whenever you worked with him, you felt you were invincible, because he could always solve any problem."
Wensel led the charge on improving video and audio coverage for such complex events as the America's Cup, placing the first high-quality remote cameras aboard the racing yachts. He was particularly adept at coordinating the technical and operational aspects of multiple-venue events, such as the Olympic Games and the 1994 Soccer World Cup. He diversified NEP into new fields, constantly pushing the traditional parameters of sports production.
"He could come up with a way to get trucks to the remote parts of the world," Wilhelm says. "He figured out a way to get gear into position at the right time when everything else looked like it could never happen. He was the guy who could pull out a tape machine and a camera, a router, and a switcher and make it into television when everybody else was lost."
Wensel continued consulting at NBC through the 1992 Barcelona Games and was in the planning stages of the 1996 Atlanta Games when he drowned trying to save his 10- and 12-year-old sons. He was just 37 years old. "He was snuffed out in the prime of his life," Wilhelm says. "He was the first one out there, creating things that hadn't been created before."
Wensel's legacy is remembered annually with the Sports Emmy Award for Technical Achievement, which is named in his honor. One of the greatest engineers to ever grace the industry, he is missed every day.