Keith Jackson
On-Air Talent
Year Inducted: 2009
If imitation really is the sincerest form of flattery, then Keith Jackson is perhaps the most flattered broadcaster ever to sit in a booth. A versatile
play-by-play man who has covered everything from baseball to boxing, his distinctive Southern twang is most associated with college football. He took the ABC announce booth every football Saturday for more than 30 years, during which his trademark "Whoa, Nellie!" became the stuff of legend.
"There isn't a football announcer in the world that at some point or another doesn't try to imitate Keith Jackson," says former ABC Sports VP Dennis Lewin. "That's the greatest compliment you can have, when everybody's taking a little piece of you and imitating it."
"Keith became the gold standard for the announcing of college-football games," says legendary ABC/NBC producer/director Don Ohlmeyer. "Some of his phrases have become the stock and trade of the business. He's the standard by which others are measured."
"Keith became the gold standard for the announcing of college-football games."
Born on a west Georgia farm in 1928, Jackson grew up listening to sports on the radio and riding a horse to school. He spent four years in the U.S. Marine Corps before enrolling at Washington State College, where he suggested to a member of the broadcast-school faculty that he might do a better job calling the school's football games than the current talent. That faculty member handed Jackson a tape recorder and asked him to prove it.
Prove it he did, beginning with his very first broadcast, a 1952 WSC-Stanford football game on the 5,000-W campus radio station.
After graduating in 1954 with a degree in speech communications, Jackson spent 10 years at KOMO radio in Seattle before joining ABC in 1964. He did his first college-football play-by-play for ABC in 1966 and soon thereafter became known as the nation's college-football voice.
"When I was a boy, we didn't have all this pro stuff," he says. "All professional sports of any consequence were located in the big cities in the North, so those of us who enjoyed the game of football followed college football."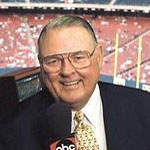 Jackson enjoyed college football on the air for more than 30 years, drawing viewers in with his folksy style of announcing. His entertaining and original lingo immediately won fans over, no matter what school they supported.
"Not only is he a classically talented football play-by-play announcer, he's got that quality that you can't teach people: he's very likable on the air," Ohlmeyer says. "He's got one of the great sets of pipes in the business."
Jackson always captured the atmosphere and pageantry of the game, punctuating his enthusiastic play-by-play with endearing terms like "the big uglies," referring to linemen, and the unparalleled "Whoa, Nellie!" With Keith Jackson in the booth, a football game immediately became an event.
"It was always fun to be in Keith's presence in a college-football town the night or two before the game," says former ABC Sports producer/director Doug Wilson, "especially when you were up in the Northwest, where he went to college. He walked on water up there."
Jackson never strayed from his Southern roots, however, keeping stardom at arm's length. Whenever road life brought the ABC Sports team to Los Angeles, he always invited the entire crew to his home for a cookout.
"Keith is as down-home, great a human being as you'll ever come across," Lewin says. "Everybody who ever worked with Keith would run through a wall for him, because he would do it for you."
Despite his Mr. College Football moniker, Jackson's repertoire was not limited to the gridiron. He also called NBA and college basketball; Major League Baseball, including eight World Series; boxing; auto racing; and the USFL. He was the first play-by-play announcer on Monday Night Football, and he was the voice of the 1972 Olympics during the Mark Spitz show. All together, he called 10 Summer and Winter Olympic Games and was a regular on ABC's Wide World of Sports, for which he traveled to 31 different countries.
"I haven't missed anything except ice hockey," Jackson says. "And they didn't have ice hockey in the South when I grew up."
Jackson now resides in Sherman Oaks, CA, with his wife of 55 years, Turi Ann Johnsen. He has not been to a football game since his final broadcast, the 2006 Rose Bowl.
"I was in the business 54 years," he says. "I only had two real jobs, one wife, and no debts, which proves I don't know a damn thing about show business."
Perhaps not, but, in six decades broadcasting sports, Jackson has proved he knows plenty about being a husband, father, friend, coworker, and as likable an announcer as has ever taken the microphone.