Ted Nathanson
Production
Year Inducted: 2008
Perhaps the only director to don protective elbow pads before his broadcasts, Teddy Nathanson was a study in contrasts. Absent-minded and forgetful outside the production truck, he was laser-sharp inside it, directing 21 Wimbledon championships and 13 Super Bowls during his 37 years at NBC. With intensity tempered by a penchant for practical jokes, Nathanson's youthful exuberance colored his entire career.
"Teddy was like a great basketball player in that he raised the level of performance of everyone around him," explains Steve Hellmuth, executive vice president of operations and technology at the NBA. "He strived for excellence by empowering and soliciting ideas from everyone."
Nathanson's career began in the mailroom at CBS, but "he was dying to get into sports," explains Edith Nathanson, Teddy's widow. After working his way through the entertainment ranks at ABC, Nathanson landed at NBC, where he worked his way into sports, spending nearly four decades directing baseball, boxing, football, hockey, golf, and tennis, as well as two Olympic Games.
"He was always thinking about how he could make his telecasts better. He really laid the groundwork for the standards of the way football is covered."
Pioneering the use of handheld and remote-controlled cameras and instant replay, Nathanson changed the look of football coverage, coloring his broadcasts with unusual reaction shots that matched his personality.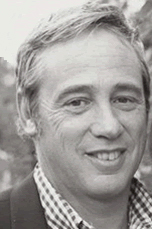 Nathanson's intense directing style literally got his blood flowing. He would emphatically bang his elbows and knees against the console, bloodying himself to the point of requiring two surgeries. For every telecast thereafter, he suited up in synch with the athletes he covered, donning elbow pads and a neck brace before taking his place in the truck.
"Because he was so heavily encumbered by all of his corset-like padding, he would have to loosen his pants," recalls Michael Weisman, former executive producer of NBC Sports. "Very often, his pants would flop down to his knees, making for an occasional embarrassing moment in the truck."
On at least one occasion, the devilish director attached a piece of paper to his shirttails. When he stood, his pants inevitably came loose and revealed an 8×10 sign reading, "HI!!!!," immediately breaking the tension.
Treating his crews more like family than co-workers, Nathanson was legendary for his generosity. "He cared about all the production people, knew all their family names, their birthdays, what was happening in their lives," Weisman says.
Every holiday season, Nathanson made sure everyone he worked with — from executives to cashiers and telephone operators — received a gift worthy of their contributions.
"His television crews worshipped him," Edith says. "He considered them part of his world. They were not just technicians, grips, or engineers; they were buddies."
Nathanson turned every broadcast into a family affair but saved plenty of time for his own family. All of his children — Michael, Laura, and Carla — "got the television germ," as Edith says, before Teddy's death from lung cancer in 1997.
Despite his constant forgetfulness and zany sense of humor, or perhaps because of them, Teddy Nathanson was one of a kind: a gifted director who was loved by everyone who had the privilege of working with him.