Tom Shelburne
Manufacturers and Vendors
Year Inducted: 2007
Because of Tom Shelburne, "live on location" is not a special event but an industry standard. The father of remote television production, he has spent decades capturing and telling stories from even the most secluded events, making the mobile production trucks he helped create an integral piece of the broadcasting puzzle.
Shelburne founded NEP Supershooters, the world's leading mobile broadcast production company. For decades, NEP has led the charge in designing, building, and maintaining dozens of mobile production trucks dispatched across the globe to make events come to life. It was Shelburne's vision of what a truck could be and do that launched the remote production industry so essential to sports broadcasting.
"He created an industry where one didn't exist," explains Dan Wilhelm, Executive Vice President of NEP Broadcasting. Shelburne grew up in television. His family founded Scranton, PA-based WNEP, which soon became the highest-rated ABC affiliate. In 1986, the New York Times Co. purchased WNEP, but Shelburne, who had always been fascinated with mobile production, kept the company's mobile assets, including NEP Communications. At the time, NEP owned just three mobile units.
"Tom managed the station and understands the dynamic of all that goes into television, but his heart and his hands are in the trucks."
In 1987, Shelburne"s mobile division of WNEP formed a joint venture with Pittsburgh-based TCS to broadcast the Pan American Games for CBS Television. With the production a success, Shelburne spearheaded a merger between the two entities, and NEP was born, capitalizing on the strengths of its parts: TCS was the management center, while WNEP provided the technical brawn.
"Tom was one of the early pioneers in really being able to move the mobile-unit industry to the levels that we're at now," says CBS Sports SVP of operations and production services, Ken Aagaard. "Shelburne tossed anything conventional to the side."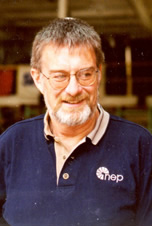 NEP Supershooters Co-Founder Debbie Honkus explains, "Tom never followed the rules. When an audio board didn't fit, he'd cut it in half. When a producer wanted more TV monitors, he'd cut a hole in the side of the truck to fit them in. He'd do whatever it takes."
In 1994, NBC offered NEP Supershooters, by then a standalone business, an exclusive contract to provide mobile units for all NBC Sports events, marking the first time a major network had outsourced all of its remote production. Within five years, all the major networks were outsourcing, and Shelburne started it all.
"This industry wouldn't be where it is today unless you had somebody who made sure that we were able to produce television of the highest quality from remote spots around the world," Wilhelm says. "Tom was the one that was able to make it happen."
From The America's Cup and the Olympics to NASCAR and the launch of the Golf Channel, Shelburne's vision and passion allowed NEP to set the standard for making television happen.
"He pushes us to be knowledgeable about every piece of equipment, every part of the truck, how it works, how it all comes together," Wilhelm says.
A night owl who loves the road, Shelburne is still an integral part of NEP's legendary engineering team.
"Tom has a real passion for making the equipment and the team come together," says Jeff Joslin, Vice President and Chief Engineer for NEP Supershooters. "He has a gut feel for what it takes to get it done, puts it on the back of a napkin, and then makes it come to life on the road. He still comes in and helps design, build, and work on the trucks."